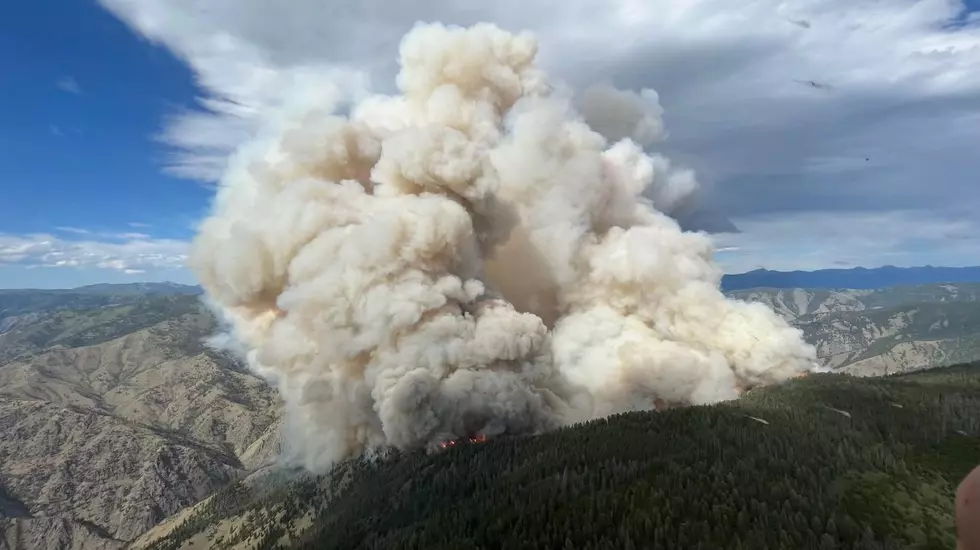 All that smoke in Gallatin County yesterday wasn't from a Montana wildfire
burning on both sides of the Salmon River and the Salmon River Road
On Monday afternoon, after a very windy but mostly blue sky day, the Gallatin Valley and surrounding areas became engulfed in that notorious haze of wildfire smoke.
What entered our airspace was smoke blowing in from Idaho, from a wildfire called the Moose Fire. It's currently burning on both sides of the Salmon River and the Salmon River Road. This fire was initially reported on Sunday, 7/17/2022 with the cause still listed as 'unknown'.
Extremely gusty winds across most of the region on Monday carried smoke across state borders with little effort. If you had time to watch the skies over the Gallatin Valley, you could see more and more of the jet stream dumping smoke into the area with every passing minute.
Air quality for Salmon, Idaho on Tuesday was quite poor, with an AQI of 116. That number is "unhealthy for sensitive groups". You can check the Air Quality Index for Idaho here...
So, what's happening with this Moose Fire in Idaho? Unfortunately, the fire has grown drastically due to extreme winds and other fire conditions. Here are the facts from the U.S. Forest Service as of 11am on Tuesday, July 29th, 2022:
Current as of 7/19/2022, 10:46:42 AM
Incident Type: Wildfire
Cause: Undetermined
Date of Origin: Sunday, July 17th, 2022 at approximately 4:00 PM
Location: Approximately 21 miles north of Salmon, ID
Exact Coordinates: 45.375 latitude, -114.091 longitude
Total Personnel: 190
Size of wildfire: 12,238 Acres
Estimated Containment Date: Tuesday, August 30th, 2022
Fuels Involved: grass, brush, and timber
Extreme fire behavior with uphill runs, short crown runs, and long range spotting.
Although winds should be far weaker than Monday going forward, windy conditions still exist in the area and are a major concern in relation to containment. Crews have a tough wildfire on their hands.
"Very dry conditions are expected today for the entire area with humidity values in the valley bottoms dropping into the 5 to 10 percent range. After relatively light winds early in the morning, breezy conditions will take over midday through the evening."
"Aircraft will be used as weather permits. Suppression focus will be to keep the fire west of North Fork, North Fork Ranger Station and east of Indianola Guard Station. Other objective are to minimize impact to recreational users coming off the Middle Fork Salmon River."
LOOK: The most extreme temperatures in the history of every state
Stacker
consulted 2021 data from the
NOAA's State Climate Extremes Committee (SCEC)
to illustrate the hottest and coldest temperatures ever recorded in each state. Each slide also reveals the all-time highest 24-hour precipitation record and all-time highest 24-hour snowfall.
Keep reading to find out individual state records in alphabetical order.