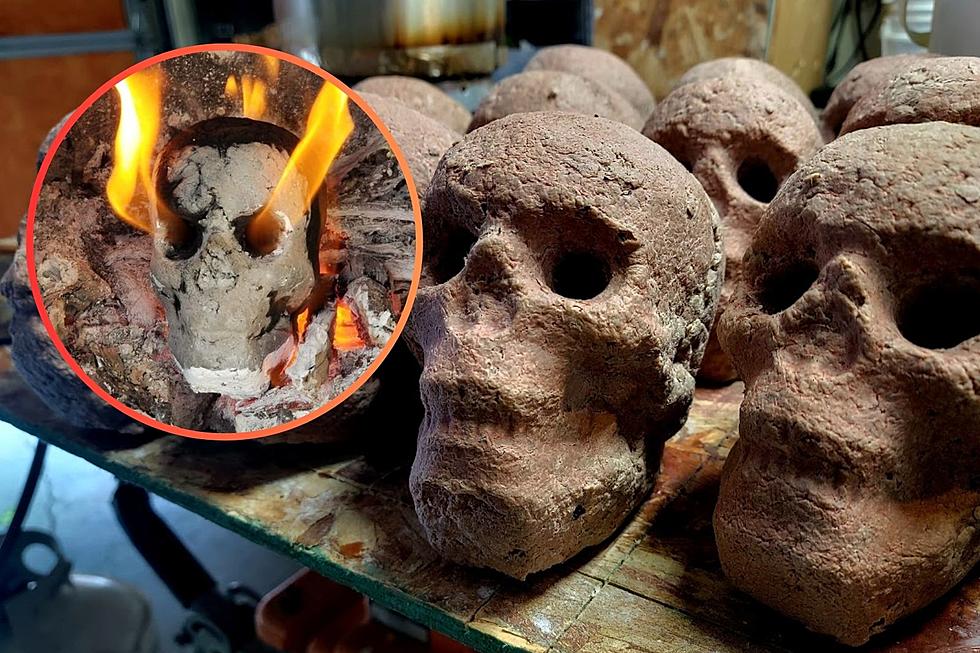 Wyoming Man Creates Awesome Upcycled Flaming Fire Pit Skulls
Credit Eric Larsen, used with permission
Finally, something cool showed up in my Facebook feed.
Today, I caught up with a Wyoming resident named Eric Larsen. From his garage workshop in Powell, Eric is creating these mesmerizing fire pit skulls. When his post showed up in my feed earlier this week, I had to know more.
They're made from waste paper.
Now retired, Larsen noticed the immense amount of paper that was discarded from the school where he worked for years as a custodian. "There's got to be a use for all of this paper", he recalled thinking.
His first idea was to make paper briquettes.
Using compacted paper as a fuel source isn't really a new thing. There are tons of examples and info on the internet. If you have access to mountains of free paper, some type of press, and a little bit of time, paper fire logs or "bricks" are fairly easy to make.
The paper fire logs Larsen started making had a hole in them from his process of pressing out the water. One night, he and his wife were sitting around the fire pit watching them burn and they commented how it looked like a volcano burning through the pressed, paper log. Then they noticed that the burning holes looked kind of like flaming eye sockets. That's when the idea struck.
It's taken him five years to perfect the process.
Through experimentation and trial and error, Larsen has developed a technique that results in a rock-hard, long-burning fire log that is shaped eerily like an actual human skull.
It's a time-consuming process, taking about three weeks from start to finish.
First, he soaks a pile of paper in water for two weeks. This breaks down the fibers into a slurry-like mixture. If you've ever made paper mache, you get the idea. Larsen believes the long soak time helps release the cellulose in the paper causing the material to naturally stick together when he moves to the next step.
A custom-made centrifuge.
Once the paper pulp is ready, he compresses the material into Teflon-coated aluminum skull molds. Larson made a machine from an old washer to spin the molds, expelling most of the water from the skulls. Next, they go into a homemade dehydrator for a week to fully dry and cure. There are no adhesives in his mix.
The skulls are dipped in wax and packaged up.
Once the skulls are fully dried, he drills out the eye sockets. Then, using upcycled wax from old candles and crayons, Eric dips each paper skull in molten wax. He said they soak up about a pound of wax in 30 seconds. They're then wrapped and ready for sale.
Larsen sells the skulls for $20 a piece, with customers ordering them from all around the country. He's shipped one to France and a customer in Belgium wanted a case. That buyer backed out when he realized how much shipping would cost. Larsen will be in Billings on October 2nd if you'd like to place an order. Find out more about his cool hobby HERE. 
House From Original 'Halloween' Movie Is for Sale
A house currently on the market in South Pasadena, Cal. was featured in the 1978 horror classic, Halloween. In the movie, the home is the residence of Laurie Strode (Jamie Lee Curtis) and her family. Strode becomes the target of Michael Myers after he escapes a mental hospital in the fictitious town of Haddonfield, Ill.