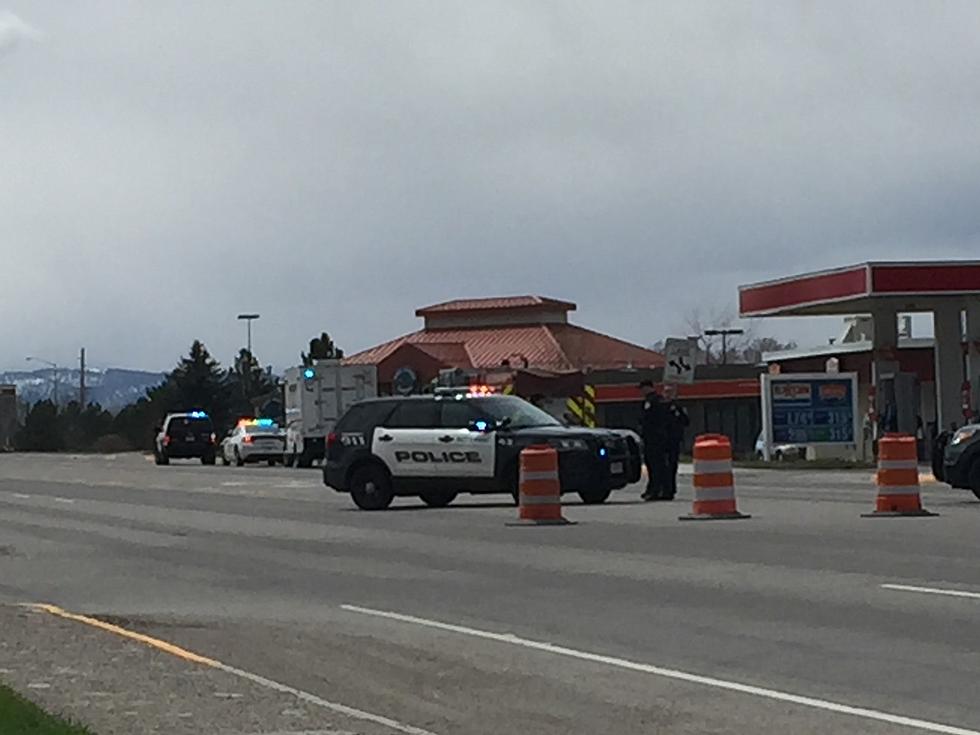 Man Charged With Robbery at Bozeman Casino
Townsquare Media
27-year-old Jacob Michael Burritt of Belgrade has been charged with Robbery, Arson, Possession of Explosives and Possession of Dangerous Drugs in connection with an incident that shut down a portion of Bozeman's Main Street, Saturday April 27.
According to a police report, at approximately 10:00 a.m., Burritt  entered Petco and apparently told employees that a shooting had just occurred at the Gallatin Valley Mall. He then left the business in a gray sedan while police were being dispatched to the scene.
At approximately 10:01 a.m., dispatch then alerted police that a man, later identified as Burritt, had reportedly thrown an explosive device into the Magic Diamond Casino, which is located a short distance from the mall. He then fled the scene in what looked to be the same gray sedan.
When police arrived at the casino, they noticed an object burning next to a cash register. A member of the Bozeman Police Department used an extinguisher to put out the fire. The object appeared to be a bottle with some kind of wick attached to it. It was later determined to be a cologne bottle with a wick stuffed into the opening.
Casino employees later told police that the suspect, Burritt, carried an object that was on fire into the casino and yelled "give me the money." He then reportedly jumped over the counter as people were fleeing the building.
A employee at the casino later told police that the casino safe had been damaged in the incident, but it didn't appear that the suspect was able to take any money from it.
Police watched surveillance video from Town Pump next door, which apparently showed a gray sedan driving through the parking lot near the time of the incident at the casino.
Based on records and a large Marine Corp sticker on the vehicle, police were quickly able to identify the owner of the car. They contacted the ex-wife of the vehicle's owner, who turned out to be Kassie Burritt. She confirmed that Burritt's vehicle was a gray Chevrolet Impala with a Marine sticker in the window.
Police then matched a photo from Burritt's driver's license to a photo from the Petco surveillance footage to determine that he was indeed their suspect.
As all of this was unfolding, Kassie Burritt told authorities in an interview that her ex-husband had told her that he wanted to rob a casino in a similar fashion as his father, by creating a diversion.
While the interview was happening, Kassie Burritt received a phone call from Jacob Burritt in which he told her "I lost everything," "tell our daughter that I love her."
A short time later, Gallatin County Sheriff's deputies located Burritt's vehicle at a local parking lot and surrounded it. Burritt surrendered and was taken into custody.
A suspect has been arrested in connection with this afternoon's incident at the Magic Diamond Casino. The person's name has not been released.
According to Bozeman police, Main Street has been reopened. Authorities also say the situation has been resolved and there is no threat to public safety.
Police have not yet identified a suspect.
The Bozeman Police Department has closed Main Street, Saturday, between Professional Drive and College Street.
Police indicate that they are investigating a possible explosive device at the Magic Diamond Casino, located at 2609 West Main.
Bozeman Police Detective Joe Swanson told local media that officers initially responded to a call reporting an attempted robbery at the business. Police are working to identify a suspect in the case.
Authorities say the public is not at risk at this time.
Main Street will continue to be closed until the bomb unit has cleared the scene.
This is a developing story.