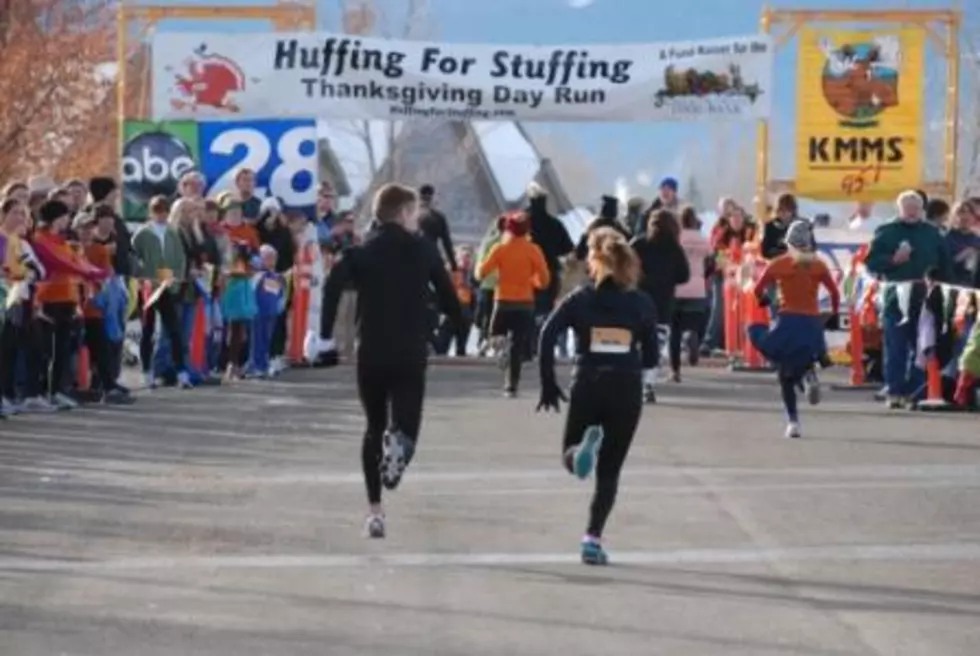 Huffing For Stuffing Race 2017 – Everything You Need to Know
Thanksgiving Day in Bozeman has turned into a massive tradition of RUNNING in the Huffing For Stuffing race! The Gallatin Valley Food Bank receives an incredible amount of money and families share a healthy start to the holiday.
We need your help to reach our goal of 5000 participants.
START: Museum of the Rockies
600 W Kagy Blvd
Bozeman, MT US 59717
Race Packet Pick-Up and In-Person Registration
Tuesday, November 21 between 11:00 am – 7:00 pm
Wednesday, November 22 between 11:00 am – 7:00 pm
All participants are encouraged to stop by Packet Pick-up on Tuesday or Wednesday, at the Gallatin County Fairgrounds, Building #1, to pick up their packet, bib number, and 2017 HFS t-shirt.
In-person registrations will also be accepted during this time.
Pick-up is available Thanksgiving morning at the Museum of the Rockies from 7:00 am to 9:00 am, however, expect a crowd and arrive early!
Huffing For Stuffing raised over $61,000 in 2016!
During the last ten years, Huffing For Stuffing has donated over $352,000 to the Gallatin Valley Food Bank.
PARKING DETAILS ON THANKSGIVING DAY (IMPORTANT!)
Parking is available at the Brick Breeden Fieldhouse, and MSU Police Department.
Parking is NOT permitted at the Museum of the Rockies or on South 7th Ave to the south of Kagy Blvd.
Kagy Blvd will be closed between South 7th and South 11th – the same as during Bobcat football games.
Traffic detours will be in effect in similar fashion.
Expect traffic delays for parking. It is a good idea to arrive early in order to enjoy complimentary snacks, hot beverages and socializing!
COURSE SAFETY:
The course is coned and marked very well, but it is open to traffic.
There will be volunteers and certified flaggers at most intersections.
Please remain on the right side of the road unless otherwise directed.
Because the course is open to traffic, we recommend that all participants wear bright clothing to improve visibility.