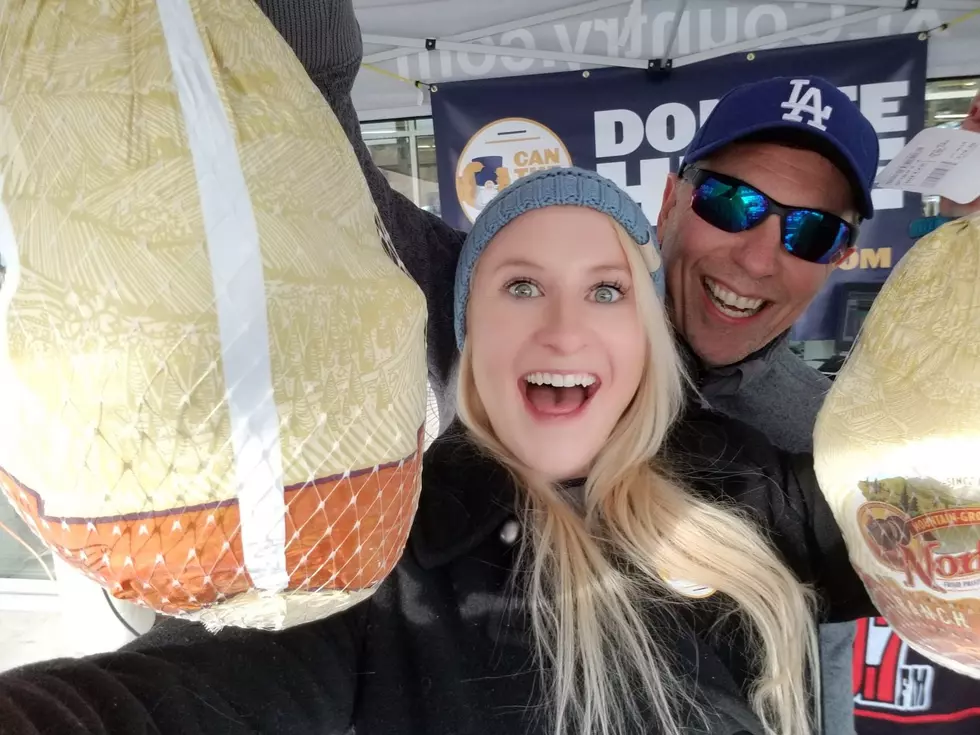 Please Help Us This Friday During our 'Can the Griz' Food Drive
Photo: Ally H.
This Friday, November 15, please stop by and be a part of our 12-hr food drive at Town & Country Foods on 19th Ave in Bozeman. We're going to Can the Griz again this year, but not without your help.
Dave & Ally from the XL Morning Show will be broadcasting live from 6 a.m. to 6 p.m. as they collect your non-perishable food items for the Gallatin County Food Bank. If you don't have time to do some quick shopping, you can also just pull up and make a cash/check donation. You don't even half to get out of your vehicle, but Dave & Ally will still probably want to take a picture with you.
Last year we raised over 30,000 pounds/cash of food and we need to do even more this year if we are going to Can the Griz. WHICH WE ARE!
The 20th Annual Can the Griz food drive is our annual off-field competition between Montana State University and the University of Montana to see which school can collect the most donations for its local county food bank leading up the annual Cat-Griz footbal game.
Everyone that stops by our Can the Griz Food Drive can sign up to win a pair of Cat-Griz tickets!
If you can't stop by Town & Country Foods on 19th Ave. in Bozeman this Friday, here's some other ways you can help Can the Griz!
Look for and drop off non-perishable food items at collection bins at most supermarkets throughout the Gallatin Valley. Here's a complete list of collection locations.
Bring your cans of food to the Cat-Griz football games on November 23rd. The MSU Office of Student Engagement will be with us to collect donations and non-perishable food items.
Make a monetary donation to the Gallatin Valley Food Bank. A couple of year's ago, we raised more pounds of food than the Missoula community did, but they beat us by getting just a little more in cash/check donations. You can write a check directly to the Gallatin Valley Food Bank or you can donate online by clicking the button below.
If you would like additional information, or to host a collection box, please contact the MSU Office of Student Engagement at 994-2933 or email canthegriz@montana.edu.
The winner of the Can the Griz competition will be announced during the Cat-Griz game in Bozeman Saturday, November 23rd.. Come on, let's Can the Griz! The Bobcats have successfully canned the Griz 15 of 18 years this competition has taken place.