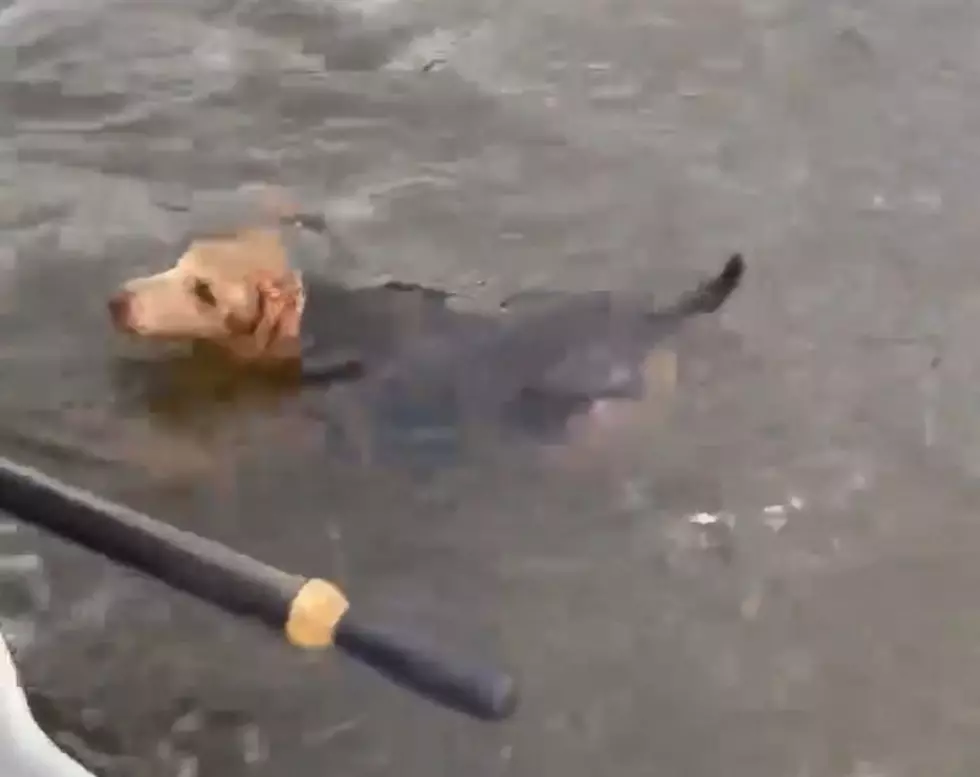 It's a Miracle! Angler Rescues Lost Dog on Yellowstone River
Facebook Photo Credit: Kate Lindsay
A dog that was found swimming in the Yellowstone River south of Livingston on Sunday has been safely returned to its owner.
With so much negativity in the world today, we figured we'd share a story with a happy ending.
On Sunday, local fishing guide Matt Rogosienski was floating the Yellowstone River a few miles south of Emigrant when he noticed a dog swimming in the river. The dog appeared to be exhausted and swam towards the boat.
According to a Facebook post, the dog's name is Chief and he seemed pretty desperate for help when Rogosienski discovered him on Sunday. After rescuing the dog and getting him into the boat, attempts were made to find its owner.
Rogosienski's wife, Kate shared photos of the rescue on Facebook and says that her husband is a real softie and deserves 100% of the credit for rescuing Chief. It appears that Chief was happy to be rescued and also has a love for fishing.
It seems that Chief made himself right at home once he dried off and was able to warm up. He found a spot to chill on the couch.
The story is incredibly heartwarming and fortunately, it has a happy ending. Shortly after being rescued, Chief was returned to his owners. If you're having a bad day, hopefully, this amazing story will help cheer you up.
We're always amazed by the collective Montana community to help our animal friends out.
said Kate Lindsay.
We'd like to thank Matt Rogosienski and his wife Kate for giving us permission to share this incredible story.
15 Helpful Facebook Groups That You Need to Join in Bozeman
Whether you're a newcomer or a longtime resident, you need to join these Bozeman area Facebook groups.
7 Natural Montana Wonders to Explore this Summer
Montana doesn't skimp on natural beauty, but these destinations make for excellent day trips or extended explorations during a camping adventure.
10 Most Mispronounced Towns In Montana
Want to know how to pronounce cities and towns inside Montana? Here's your guide: