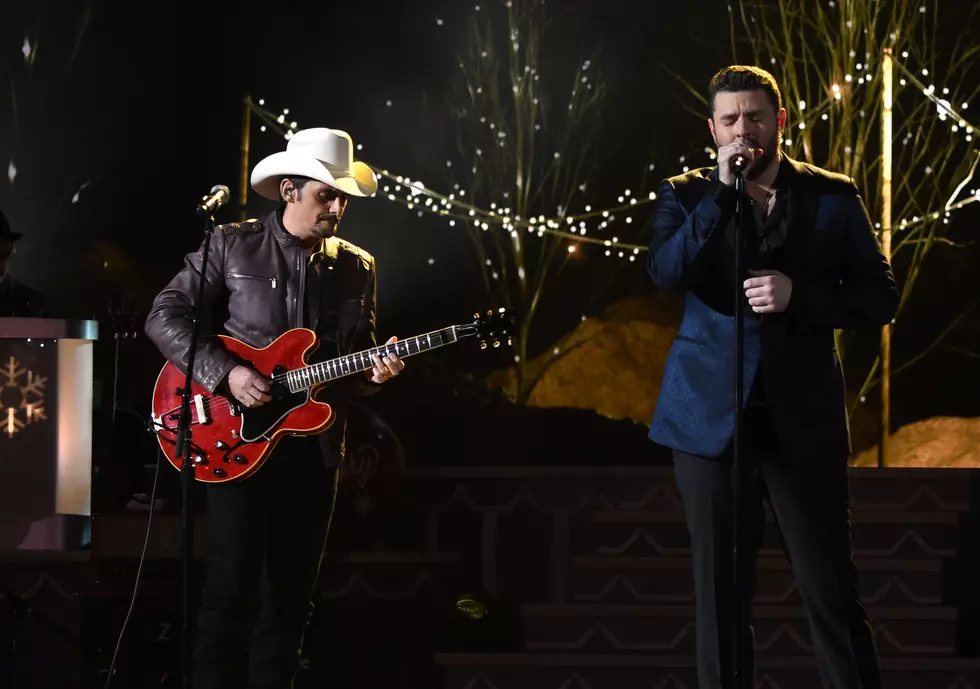 Chris Young, Brad Paisley Duet for 'CMA Country Christmas' 2016 [WATCH]
Rick Diamond, Getty Images
Young and Paisley performed "The First Noel" while standing together under a single spotlight onstage; throughout the song, they harmonized, and Paisley offered a guitar solo mid-tune. The pair perform "The First Noel" together on Young's recently released holiday album, It Must Be Christmas: Young asked Paisley to simply sing the melody on certain sections of the Christmas classic, but Paisley ended up doing much more than that.
"It was the first project I've ever done where all of the things that were duets with people were sent off, and they came back," Young shares. "So we got a message back from [Paisley's studio engineer, Kendall], and he was like, 'Hey, Brad took some liberties.' And by 'Brad took some liberties,' he means Brad had stacked four different, bad-a-- harmony parts and played all these amazing guitar parts underneath. And he was like, 'Is this good? I don't know if this is good. Do you like it?'"
During CMA Country Christmas, Young also performed "Christmas (Baby, Please Come Home)," originally performed by Darlene Love in the early 1960s. Prior to that performance, a taped segment featuring Young surprising a fan as part of the Macy's Believe campaign had host Jennifer Nettles explaining of Young, "When it comes to the spirit of Christmas, he doesn't just talk the talk, he walks the walk."
Young's It Must Be Christmas is available for purchase on Amazon.
See Photos From the 2016 'CMA Country Christmas' Taping