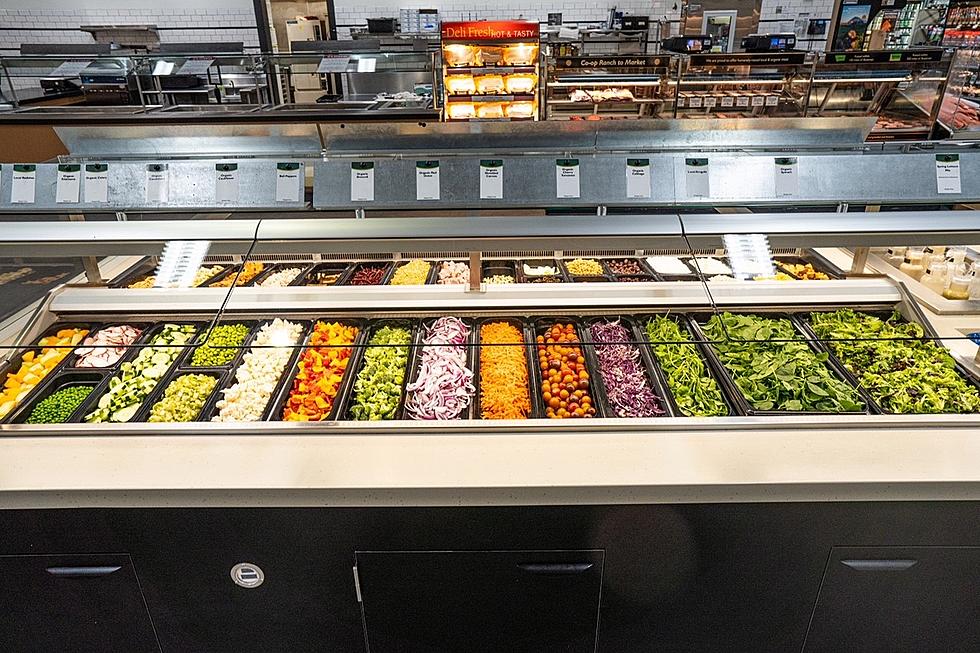 7 Delicious Salads That Are Loved By Expert Bozeman Locals
Co-op Salad Bar 2 - Kene Sperry
A good salad offers a lot more than chopped lettuce. Good thing the Bozeman area has so many places to get tasty salads, AND the locals were willing to share their favorite spots. Simple, fancy, protein loaded, or meatless - here are the top salad picks around Bozeman.
NOTE: These top picks for where to get a great salad are listed in random order. The choices are vastly different, so there's something for everyone. Also, a few salads may be seasonal menu items and not available year-round. In our experience, salad dressings are almost always served on the side, and if not - you can ask that it is.
This list was built via a simple poll on our website and on our Facebook page. In addition, we did a little man-on-the-street questioning with locals. (Yes, we made sure they actually lived here for more than 10 minutes.) If you know of another excellent salad found somewhere in the Bozeman area, please let us know!
Community Food Co-op, Bozeman - With two locations, any local will surely mention the Co-op when it comes to a build-your-own salad bar. The Co-op does a better job than anyone in the area with fresh, organic produce and veggies. There's a "cold bar" AND a "hot bar"...and it's the same price/pound. When you want grab-and-go healthy food, the salad bar at either of the Co-op locations is top notch. (908 East Main Street and 44 East Main Street, Bozeman.)
Blackbird Kitchen - Kale Salad: (140 East Main Street, downtown Bozeman) This kale salad got several rave reviews from locals, but obviously you need to be a fan of kale. Also in this salad - pecorino, garlic, chili, and toasted breadcrumbs. "The kale salad at Blackbird (rumor had it they massage the kale so it is tender!)"
Ponderosa Social Club - Brussels and Romaine Caesar Salad: (515 West Aspen Street, Bozeman) Shaved and fried brussels sprouts, fresh romaine hearts, and garlic croutons, tossed in house made Caesar and shaved parmesan. "I've had a few salads at Ponderosa and really liked my meal each time. My favorite so far as been the brussels ceasar, though."
The Club Tavern & Grill - Steak Salad: (1325 North 7th Avenue, Bozeman - inside the Best Western Grantree Inn) It seems that The Club gets lots of votes for almost all of our food surveys. That simply means they serve consistently good meals, which has been out experience too. What you'll find on the popular steak salad: marinated flank steak, bleu cheese crumbles, fried onion strings, mushrooms, tomatoes, horseradish dressing.
Montana Ale Works - Asian Ramen Salad: (611 East Main Street, Bozeman) Ale Works is a staple for locals and visitors alike. They're open at 4pm daily, and are located in the Northern Pacific freight building in downtown. What you'll find in the popular Asian Ramen Salad - plum-glazed sesame-fried chicken or tofu, ramen noodles, organic mixed greens, fresh veggies, sesame-soy vinaigrette.
Ted's Montana Grill: (105 West Main Street, Bozeman) Ted's got several votes for several different salads. The Kale Side Salad: Roasted corn, grilled jalapeño, vine-ripened tomato, fresh herbs, vinaigrette. Chopped Side Salad: Iceberg, roasted corn, garbanzo beans, vine-ripened tomato, green pepper, red onion, fresh chopped basil, cucumber, bacon, fresh basil vinaigrette. Big Sky Grilled: Iceberg, romaine, organic spring mix, bacon, cheddar, egg, vine-ripened tomato, avocado, croutons with, Beef Burger, Grilled Chicken, Bison Burger, or Cedar Plank Salmon. (My personal fave is the salmon with honey mustard dressing.)
Farmacy: (1234 West Main Street, Bozeman) Farmacy is a fast-casual vegan restaurant and bakery, so you can get just about any kind of salad you want...as long as you don't want meat! The Farm Bowl, The Garden Bowl, or The Grain Bowl - this place is great if you need something healthy, fresh, and quick.
Best Groups for Montana Foraging and Mushroom Hunting
If you love gathering fresh and wild edibles, these are the best online resources to learn the basics or share your expertise. Foraging is a labor of love for special food, and it requires important knowledge along with lots of patience. Check these out!
25 Best Places For Prime Rib in Montana
Looking for quality prime rib? Here are some of the best places to check out in Montana.
The Best Montana Cookbooks - Food and Cooking From Big Sky Country
Montana chefs and home cooks offer award-winning recipes that are distinctly Montana. Cookbooks can be found on just about every kind of culinary fare, from Bison BBQ to extensive fine dining recipes. Great food and hearty recipes have been a Montana tradition for generations. We were able to find all of these cookbooks locally or online. Enjoy!