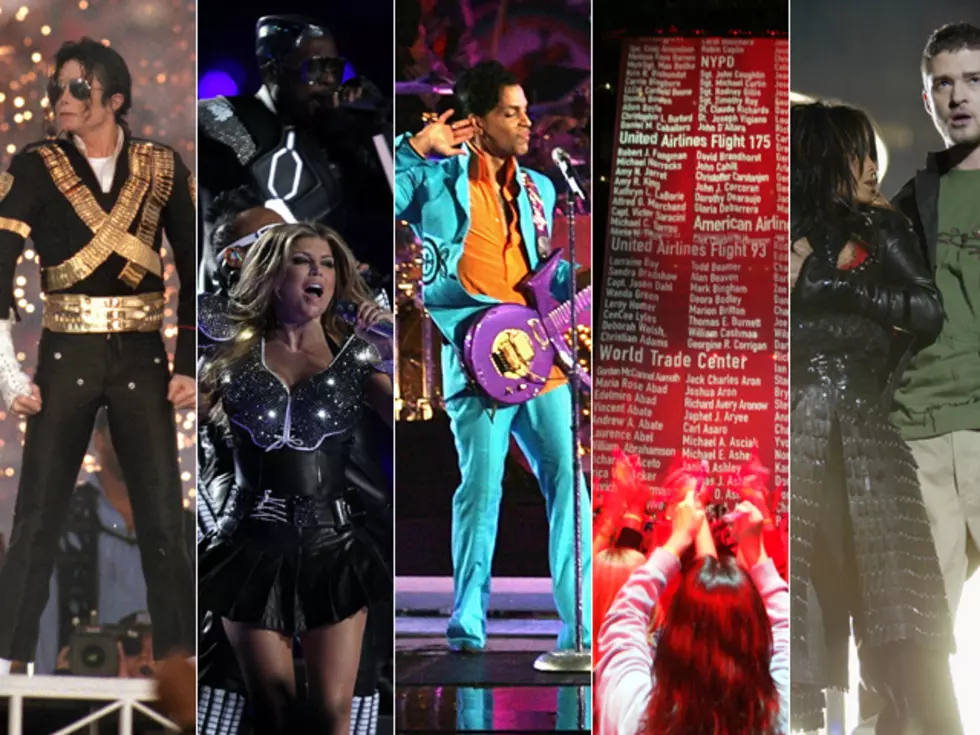 8 Memorable Super Bowl Halftime Shows [VIDEOS]
So I call Madonna doing the halftime show "an episode of GLEE for the OLDER GENERATION" ! HA!  What do you think?  Where's the country stars? - (tom jordan)
During Sunday's Super Bowl, Madonna will take center stage for the halftime show. She's working with the famous acrobat troupe Cirque du Soleil on a concept for the gig, but only time will tell if it'll fly — or flop.
With that in mind, let's revisit some of the more memorable halftime shows — both good and bad — of years past.
1989 — Elvis Presto — Super Bowl XXIII
This Elvis impersonator didn't sing any Elvis songs — he did card tricks instead. Badly. The show was so cringeworthy that in the introduction, even the exceedingly professional Bob Costas says sarcastically, "This is the single proudest moment of my life."
1991 — New Kids On The Block — Super Bowl XXV
In a blatant commercial for Disney, Mickey Mouse led a zillion children onto the field, where they sang before New Kids On The Block took the stage. Because when you think of football, you think of pink castles and kids and boy bands, right?
1992 — 'Winter Magic' — Super Bowl XXVI
The idea was to promote the upcoming Winter Olympic games, but the execution was a cheesefest that looked like a 1970s variety show. And what's with the Christmas music a full month after the end of the holiday season? Ugh.
1993 — Michael Jackson — Super Bowl XXVII
You need only watch the clips above to understand the NFL once had a problem with terrible halftime shows. So when it decided to change course, it turned to Michael Jackson — who delivered and then some. In fact, the halftime ratings were higher than those for the game itself. After this performance, the networks never cut away during halftime again.
2002 — U2 — Super Bowl XXXVI
Performing only a few months after 9/11, U2 paid tribute by scrolling the victims' names on a 200-foot screen as the band played 'Where the Streets Have No Name.' At the end, Bono opened his jacket to reveal the Stars and Stripes lining within.
2004 — Janet Jackson/Justin Timberlake — Super Bowl XXXVIII
A halftime show sponsored by MTV — what could go wrong? Janet Jackson and Justin Timberlake put on a pretty good show before the now-infamous "wardrobe malfunction" that led to protracted court battles over fines and countless debates about what is and isn't "decent."
2007 — Prince — Super Bowl XLI
In a rain-soaked show that spotlighted the Purple One's performance skills, Prince rocked up a series of his hits and some terrific covers. But during his signature 'Purple Rain,' he appeared as a giant silhouette with a guitar that looked like a big … well, let's just say the racy implication was clear.
2011 — Black Eyed Peas — Super Bowl XLV
Just about everything that could go wrong here did — the Peas screeched to be heard over a sound system that didn't work right, the costumes were bizarre, and some of the special-effects fizzled. Even Slash and Usher couldn't save this mess.