Brad Paisley Forgets Lyrics [Video]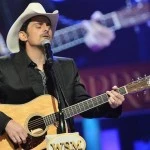 We've all been there…forgetting the words in front of people.
But, when you're as famous as Brad Paisley, everyone gets to see it! Brad Paisley made an appearance at the ribbon-cutting ceremony for Nashville's new Music City Center.  He tried to sing "Welcome to the Future" for the crowd, but he forgot the lyrics.  Over and over again.  He had to stop and start about four or five times.